Orchards and Biodiversity
Orchards are places of beauty, of tranquility, of timelessness.  They've been their ages seeing the seasons in and out, gently changing their appearance from blossom to fresh leaves, to fruiting and joyful harvesting.  Often unseen by us much other wildlife benefits too.
Orchards may have been around for decades, and traditional ones for centuries.  Grassland, hedges and trees provide for the wide diversity of wildlife that has become established.  And there were many such in the Welsh Marches.  Sadly over 80% have disappeared.
Orchards have been given added importance in that Traditional Orchards were recently added to Local Biodiversity Action Plans.
The Three Counties Traditional Orchard Project http://www.malvernhillsaonb.org.uk/three-counties-traditional-orchard-project/ is working to restore ten orchards and their habitats with the help of owners and local volunteer workers.  It will benefit us all: people, wildlife, and preserve many old fruit varieties.  And there are exciting opportunities for learning orcharding skills.  If you're near Gloucestershire, Herefordshire or Worcestershire do think of joining them; it makes for a lovely chance to work in teams learning and doing.  They are Heritage Lottery Funded.  If interested contact TCTOP to further information www.tctop.org.uk
Many Wildlife Trusts have also been restoring traditional orchards and establishing new ones https://www.wildlifetrusts.org/wildlife/habitats/traditional-orchard.
They are working with farmers and land-owners for emphasizing traditional management techniques, including grazing, hay-cutting and scrub clearance.  There are many opportunities for you to volunteer with and learn new skills Wildlife Trusts.  Some orchards that you can visit are listed under "Orchards to Visit".
Often bee-keepers are pleased to site their hives near to an orchard.  We're just as keen that they do so too.  A pleasing collaboration.  We encourage bee-keepers to have hives near our orchards.  MAN attends Beep-keeping Shows at Builth Wells and Harper Adams.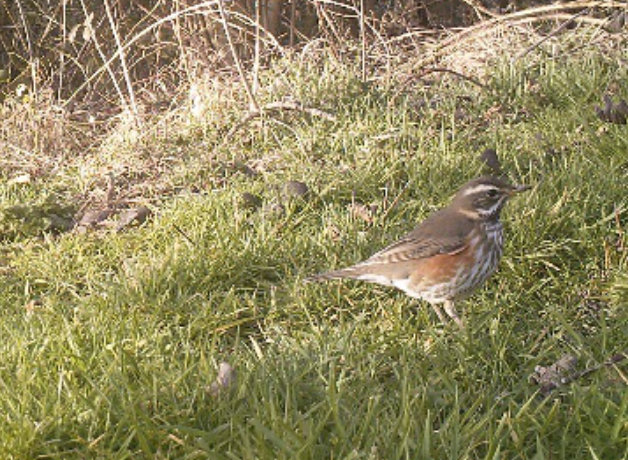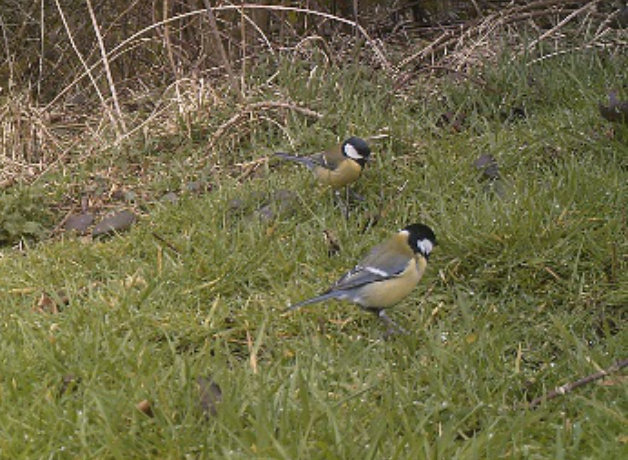 Tits and other small birds can be good friends keeping aphids numbers under control.  In winter redwings help control numbers of insects, slugs, and other wildlife that might otherwise become a nuisance.  Another collaboration.
But then crows sometimes peck fruit as it ripens and make themselves unwelcome.
Peoples Trust for Endangered Species https://ptes.org/ have been active in locating orchards, over 42000 in England and Wales so far.  They have surveyed over 8000 already and are keen for more owners and volunteers to contribute.  They provide an illuminating overview of the distribution and condition of our orchards.  https://ptes.org/get-involved/surveys/countryside-2/traditional-orchard-survey/
The Gwent Wildlife Trust have completed a fascinating orchard project. http://www.gwentwildlife.org/what-we-do/projects/gwent-orchards-project-completed
The description of wildlife associated with orchards is a delight to read.
The North Wales Wildlife Trust have a lovely account of wildlife assosciated with traditional orchards http://www.northwaleswildlifetrust.org.uk/wildlife/habitats/traditional-orchard
Orchards to visit
Orchards in the Welsh Marches
MAN has six museum orchards and Members are welcome to visit these by prior arrangement (see MAN Orchards)
Berrington Hall, near Leominster in Herefordshire. This classical 18th Century mansion was designed by Henry Holland and is gracefully set in a park landscaped by "Capability" Brown. There is an enclosed orchard of traditional apple and pear varieties; it is the National collection of Herefordshire and Worcestershire apple varieties. A brief guide is available at the National Trust shop (but you may have to ask for a copy).
Breinton Get details from TCTOP that they'd like to include
Monnington Get details from TCTOP that they'd like to include
Whibourne Get details from TCTOP that they'd like to include
Tidnor Wood Museum Orchard has the National collection of cider apples.  a collection of over 300 varieties of apples used for making cider http://www.tidnorwood.org.uk/   The collection has been propagated by the NT with 2 specimens of each variety now being grown on their estates at Barrington Court, Montacute House, Glastonbury, Brockhampton, Killerton.
The wood is not open to the public and is, we believe, sold.  It may be possible to visit by arrangement with the previous owner, Henry May, via henrymay@tidnorwood.org.uk
Lady Close, Bodenham contains dessert and culinary apples in a remnant of 30 trees of age 80-100 years from a traditional orchard that has been augmented by another 70 trees from 2000. Tree varieties are typical of the wider Welsh Marches Area and are listed in NECR090 (see below).  Grass is grazed.  The orchard and Bodenham Lake has been managed by Herefordshire Council as a nature reserve; they are open to the public.  However, the orchard leasehold is being transferred to a partnership of two local charities http://www.herefordshirewt.org/news/2015/10/22/queenswood-and-bodenham-lake-transfer-near-completion
Colwall Orchard Group have recently established a community orchard which comprises of nearly 300 apple and pear trees http://colwallorchardgroup.org/home/cvg.html. It replaces the former "Gas Orchard" lost over 50 years ago.  It is open to the public and is a grand example of what can be achieved by a committed community.
Marcle Ridge. Orchard visits are included during the twice yearly Big AppleBig Apple (www.bigapple.org.uk) weekends.
The privately owned Kemerton Estate is owned by the Darby Family and currently managed by Adrian Darby, formerly chairman of the RSPB and later chairman of Plantlife. It has grown from 300 acres in 1949 to 1150 acres in 2003. The estate is in South Worcestershire, near Tewkesbury, rising from the Carrant Brook and the River Avon to the South Western Slopes of Bredon Hill. The estate contains several traditional orchards which have undergone restoration in recent years. About 250 varieties of apples and pears are grown on some 500 trees. Lillians orchard has a comprehensive collection of apple and cider apple varieties, being managed by the Kemerton Conservation Trust.  For group visits to The Orchards or other parts of the estate contact the Conservation Officer on 01684 773073.
National Apple Day on 21st October 1994 saw the start of the planting of the Ebley Linear Community Orchard near Stroud, Gloucestershire. This is an orchard alongside an ex-railway line, now a cycletrack. Seventy trees along a half mile of the track have been planted. Each traditional and some rare varieties are interpreted by individual information boards giving such details as date of origin and uses of the apple per variety. Gloucester Underleaf, Ashmead's Kernel and Gillyflower of Gloucester are just some of the varieties planted. The Community Orchard is now well established and is well worth a visit. It can be found on the left hand side of the Ebley bypass A419 from Stonehouse to Stroud. A car park is provided at the Kings Stanley turning.
The Vale of Evesham Blossom Trail may be enjoyed between the end of March and mid May. Details can be found on a leaflet available from information centres in Worcestershire or from here.
At Comberton Abbey, Whitchurch, Shropshire SY13 4AJ there is a fruit maze. Only a limited number of non traditional varieties are used but the maze provides a large scale example of the pruner's skills in creating espalier trees. The maze is only open to groups of 20 or more, booked in advance.
Three circular walks through orchards at Breinton, Mordiford and Woolhope near Hereford are listed on the Cider Museum website http://www.cidermuseum.co.uk/index.php/apples-and-pears/ There are informative pamphlets about each of these.
Herefordshire Cider Route guides cyclists through the County's orchards on two routes around Pembridge and Ledbury http://www.ciderroute.co.uk/site/index.html
Common Ground has a Website "England in Particular" lists many orchards throughout England that may be possible to visit http://www.englandinparticular.info/orchards/o-counties.html
In addition Orange Pippin website lists more orchards in England that may be visited
http://www.orangepippin.com/orchards/united-kingdom
In Gloucestershire, there are many community orchards.  At Dymock there is a comprehensive collection of Gloucestershire varieties, containing many not in MAN orchards, it is managed by Gloucestershire Orchard Trust.  Others are listed at http://gloucestershireorchardtrust.org.uk/community-orchards-in-gloucestershire/
Westbury Court, Westbury-on-Severn, Gloucestershire has an interesting collection of old varieties in the walled garden of the property owned by the National Trust  http://www.nationaltrust.org.uk/westbury-court-garden
Also the delightful Hartpury Perry Pear Centre hosts the National Collection http://www.hartpuryheritage.org.uk/places-to-visit/orchard-centre/the-national-perry-pear-centre/
Worcestershire County Council Countryside Service give a delightful illustration of the fun establishing a Community Orchard http://www.growingworcestershire.org.uk/Pdfs/WadeCommty%20Orchards.pdf.  More accounts of a number of varied traditional orchards being brought back into productivity by owners and managers is given in http://www.wbrc.org.uk/WBRC/WOCS.pdf
Orchards in Wales
In Wales, at the Middleton Hall, National Botanic Garden of Wales there is a comprehensive collection of Welsh apple varieties http://www.gardenofwales.org.uk/
Powis Castle, Welshpool, the National Trust has a small orchard of Victorian apple varieties.  http://www.nationaltrust.org.uk/powis-castle-and-garden
Erddig Hall, Wrexham, has a good collection of old varieties in the walled garden plus others in an adjacent area and in the car park.  It is maintained by the National Trust http://www.nationaltrust.org.uk/erddig
Montgomery Wildlife Trust has two small orchards, at Newtown and Welshpool, recently planted and containing Welsh varieties together native species hedgerows  http://www.montwt.co.uk/news/2015/02/27/new-orchards-for-wildlife
Other Orchards
The National Council for the Conservation of Plants and Gardens lists all national plant collections. It is possible to search for all National Collections of Fruit.
It is well outside the Marches but Cannon Hall Walled Garden has a collection of some 38 pear cultivars. The garden is at Cawthorne, 5 miles West of Barnsley. Tel 01226 790720.
More pears are at Newby Hall, Ripon, North Yorkshire (Tel 01323 322583, FAX 01423 324452) and Ripley Castle Gardens, Ripley, near Harrogate, North Yorkshire HG3 3AY (Tel 01423 770152, FAX 01423 771745). Entrance is free to both for RHS members. Opening details are in the RHS Members Handbook (distributed with The Garden in January 2003).