DNA Fingerprinting Services
Aberystwyth University
Capability
Recently we became aware that Dr Thorogood of IBERS at the Aberystwyth University (AU) has a comparable capability to that at East Malling (weblink).  This facility has been developed primarily for checking the Welsh Perry and Cider Society orchards containing apples of Welsh origin or association; one of these orchards is at Aberystwyth    This capability and interest is particularly relevant to MAN as Aberystwyth is quite close to our heartland.
Details of AU service offered are presented on our website.  We decided to test it, assess results and report them here.
It may be of interest and use to you.
Test
A blind test was designed to mirror that of EMR, the only information released to AU in advance was that all were of apples and ones in MAN's holding of over 500 varieties thus most but not necessarily all results would be available from the fruitID/EMR prior tests.
Fifteen samples were selected to ensure good coverage of the various characteristics, including triploid and tetraploid, a several duplicates, organic materials from stipules as well as leaves, and one unknown (or rather, so we thought).
A bag with samples was given to Dr Thorogood on Wednesday 14th August.  It contained the following laeaves and sticks in fifteen zip-lock bags with just the sample bag number written on each: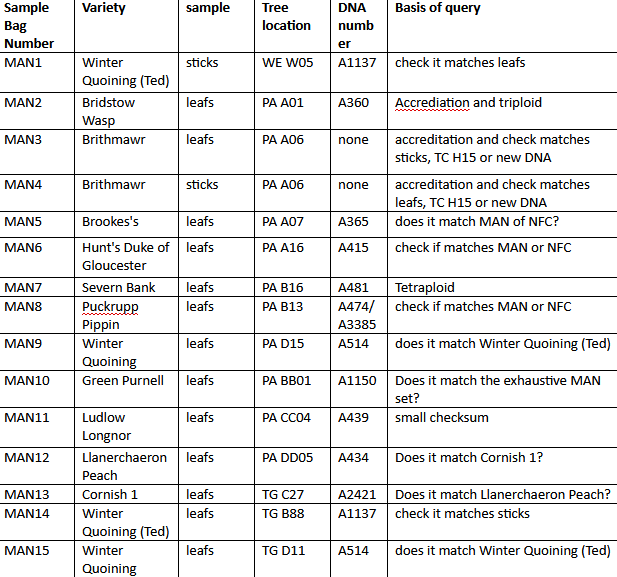 We recognized after receiving results that two mistakes were made in the sample collection; the table above has been corrected for them.  We too are human!
Results
A detailed report of results (weblink) was received from AU on Thursday 29th August, fifteen days after submission of samples.
The table below compares the ID of sample submitted with those suggested by AU, the test of the last column is a direct extract from the AU report.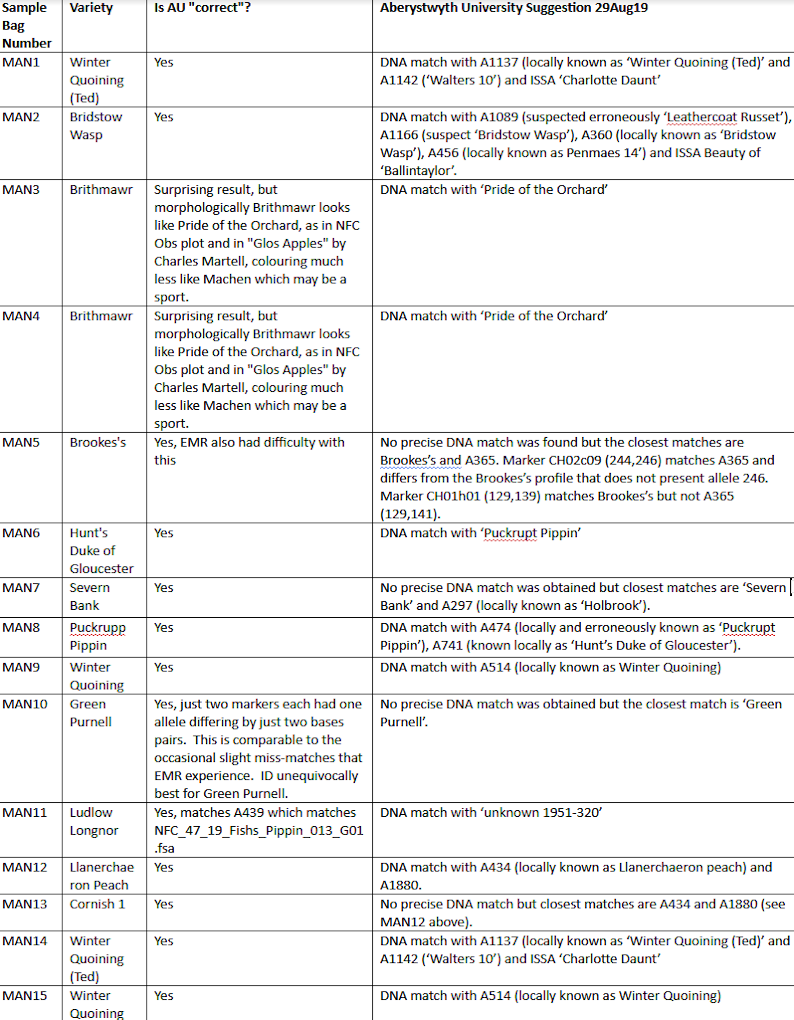 Eleven of fifteen samples had unambiguous matches.  Among which was a duplicate with Brithmawr, leaves and stipules (MAN3,4).  Most intriguingly for MAN was that it matched two other varieties from SE Wales area: Machen and Pride of the Orchard.  We'd not made this connection before and are now assessing whether these are sports of one another, and if so which has the earliest provenance before submitting an accreditation request.
Winter Quoining (Ted) from two trees (MAN1,14) proved a second duplicate of leaves and stipules, with an exact match.   A third duplicate pair, of Winter Quoining, is between leaves from two trees (MAN9,15), again the match was exact.
We also had confirmed that results for Hunt's Duke of Gloucester and Puckrupp Pippin match earlier ones from EMR, and again indicate that NFC have these two trees interchanged on their records.
Of the four samples where some interpretation was needed, Brookes's also required careful interpretation by EMR.  Severn Bank is a tetraploid, and has four alleles for marker CH04c07 at 114, 118,120 and 129, which are sufficiently close to make resolution tricky; a useful test candidate.  Green Purnell slight mis-match is well within that we have on occasion seen from EMR.  Cornish 1 had some extra alleles, for which there may be grounds for further research to understand how such can arise, whereas the same variety, i.e. a duplicate, Llanerchaeron Peach did not.
Comment
We were delighted with these results and will use the service again.  We think it merits interest from other orchard groups, especially if a quick response is needed with the option of immediate personal attention.