"Lost" varieties re-discovered
MAN was founded in 1993 largely as a reaction to the decline of traditional orchards and consequent loss of varieties, our main objective was to re-discover and keep in cultivation old varieties of top fruit- particularly those associated with Wales and the Welsh Marches. At our first presentation at the Malvern Autumn Fruit Show in 1995, we mounted a display of unknown apple varieties seeking help in their identification from visitors. This evoked lots of interest but only one name. We also displayed a poster of "WANTED" apples.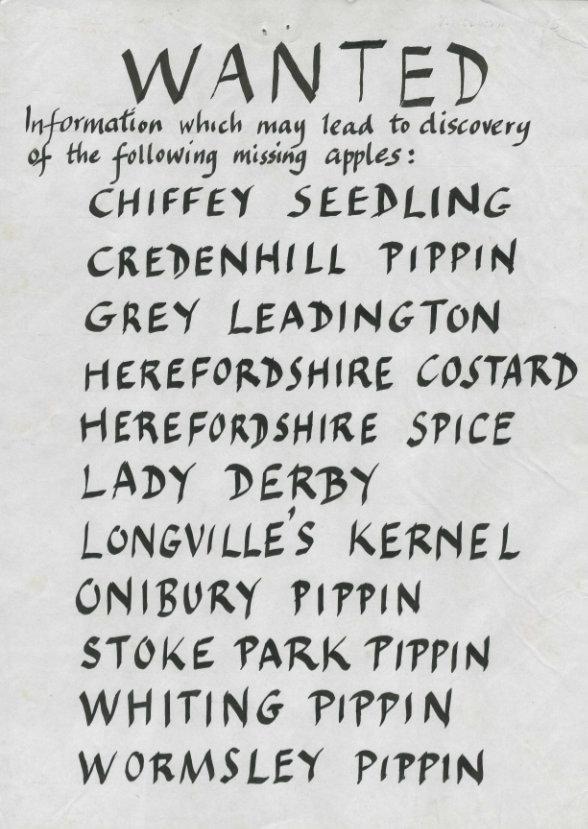 Since 1993 more than 30 varieties of old dessert and cooking apples have been refound. Most are listed in 'Orchard Gleanings' in Apples and Pears (2014) though a few have been authenticated since, notably Martin Nonpareil, Spring Grove Codlin and Wormsley Pippin.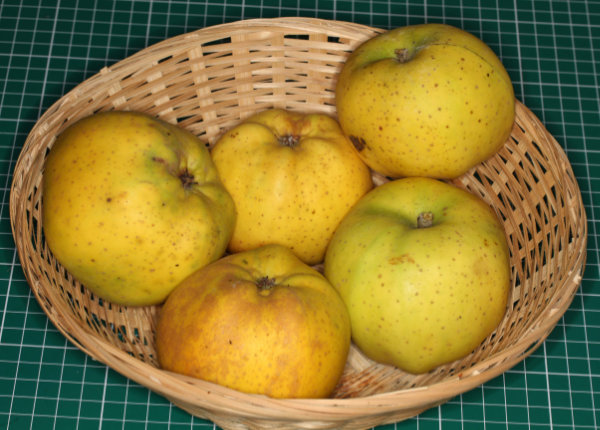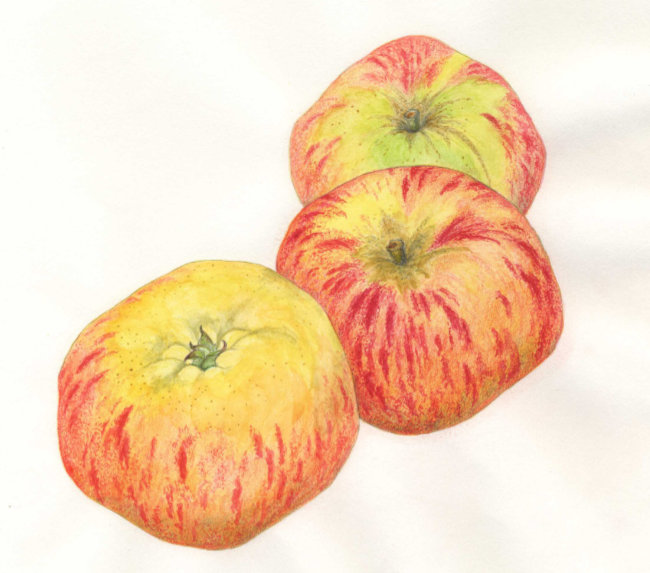 There are three chief ways 'lost' varieties have been refound
Local campaigns have been lauched by enthusiasts to find a particular apple once grown in their district. In this way Brithmawr was found in Glamorgan by Muriel Beck and friends, and Chatley Kernel in Worcestershire by Peter Weekes. These finds, and the dramatic rescue of Newland Sack by John Aldridge are documented in early MAN newsletters.
More often 'lost' varieties have surfaced by visitors bringing in unknown apples for identification at Apple Day events. It was an exciting moment at Church Stretton Apple Fair in 2004 when Tom Adams took out of his rucksack 3 small specimens of Gipsy King. By the time we had checked them with Hogg's description the queue of visitors clutching bags of unknown apples snaked through the hall, and to avoid further disruption the show organiser despatched us to a quiet room in another part of the building. The debut of Barcelona Pearmain, brought to Malvern Show by Mary Troughton in 2007, was another 'red letter' event.
The third way of discovering old varieties is by arranging visits to traditional orchards. Pig Aderyn and Pren glas were found on a visit to an old estate in St. Dogmaels; Pig yr wydd and Marged Nicolas came to light as a result of a survey of farm orchards around Llansadwrn commissioned by the Countryside Council for Wales. When we looked around the farm orchard in Shropshire which was home to Gipsy King three other old varieties were refound-Bringewood Pippin, Round Winter Nonsuch and Rymer. Such lucky breaks more than compensate for the hours spent trying to trace elusive apples like Ten Commandments. In many cases we have arrived just in time as the ancient decrepit trees, with hollow trunks ravaged by beetles and woodpeckers, might not have survived the next great storm.
Identification be a lengthy process and involve taking scions from an old tree and grafting young ones that can be grown on and studied in one of our museum orchards. It took 10 years to determine that the large angular speckled yellow apples brought to the Leominster Apple Fair by Angela Cooke in 2004 were the variety Wormsley Pippin, raised by Thomas Andrew Knight of Downton Castle prior to 1811. In The Herefordshire Pomona, where the apple is described as Knight's " favourite seedling apple and the best he ever produced" there is a rather atypical illustration, and it was only after comparison of the fruit with early 19th century depictions by William Hooker and Augusta Withers that the identification was confirmed.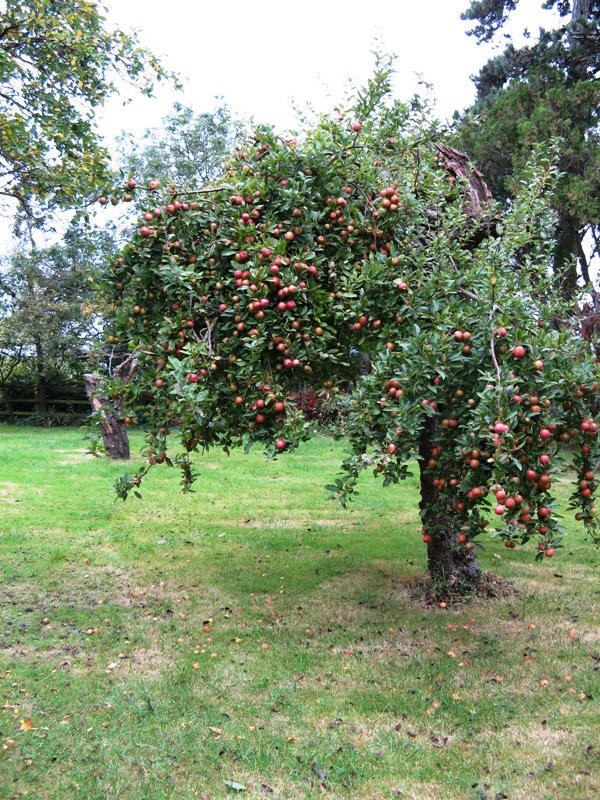 There is still plenty of scope for further discoveries. It has been estimated that more than 300 varieties of dessert or culinary apples have been raised or found in Wales and the Welsh Marches. One hundred years ago local nurseries stocked a wide range of fruit, e.g., the 1907 catalogue of King's Acre Nurseries (Hereford) lists 180 apple varieties for sale; in 1908 the catalogue of Fair Oak Nurseries at Bassaleg listed 100 varieties but added in a footnote that they had another 200 on trial which would be offered for sale in due course if they proved suitable.